Caring for the Environment
AWC's nature is a holding company and real estate investor. We invest thru our subsidiaries in three business groups i.e.: Hospitality, and Retail and Commercial Buildings i.e. affiliates.
Our unique business model is to collaborate with internationally renowned hotel operators under well-recognized brands, including Marriott, The Luxury Collection Hotel, Okura, Le Méridien, Banyan Tree, Hilton, DoubleTree by Hilton, Sheraton, Holiday Inn and Meliá brands. By leveraging the expertise of our in-house development team, with technical support from international hotel operators.
AWC recognized that each affiliates' performances can considerably impact to AWC's performance. Therefore, AWC have established AWC Groupwide Commitment and have worked to incorporate those targets into each affiliate properties. AWC also encourage our affiliates to adopt leading practices from our partners."
Initiation of Circular Economy
"A circular economy is a global economic model that DECOUPLES "economic growth and development" FROM "the consumption of finite resources." By design product, components and materials at their highest utility and value, at all times".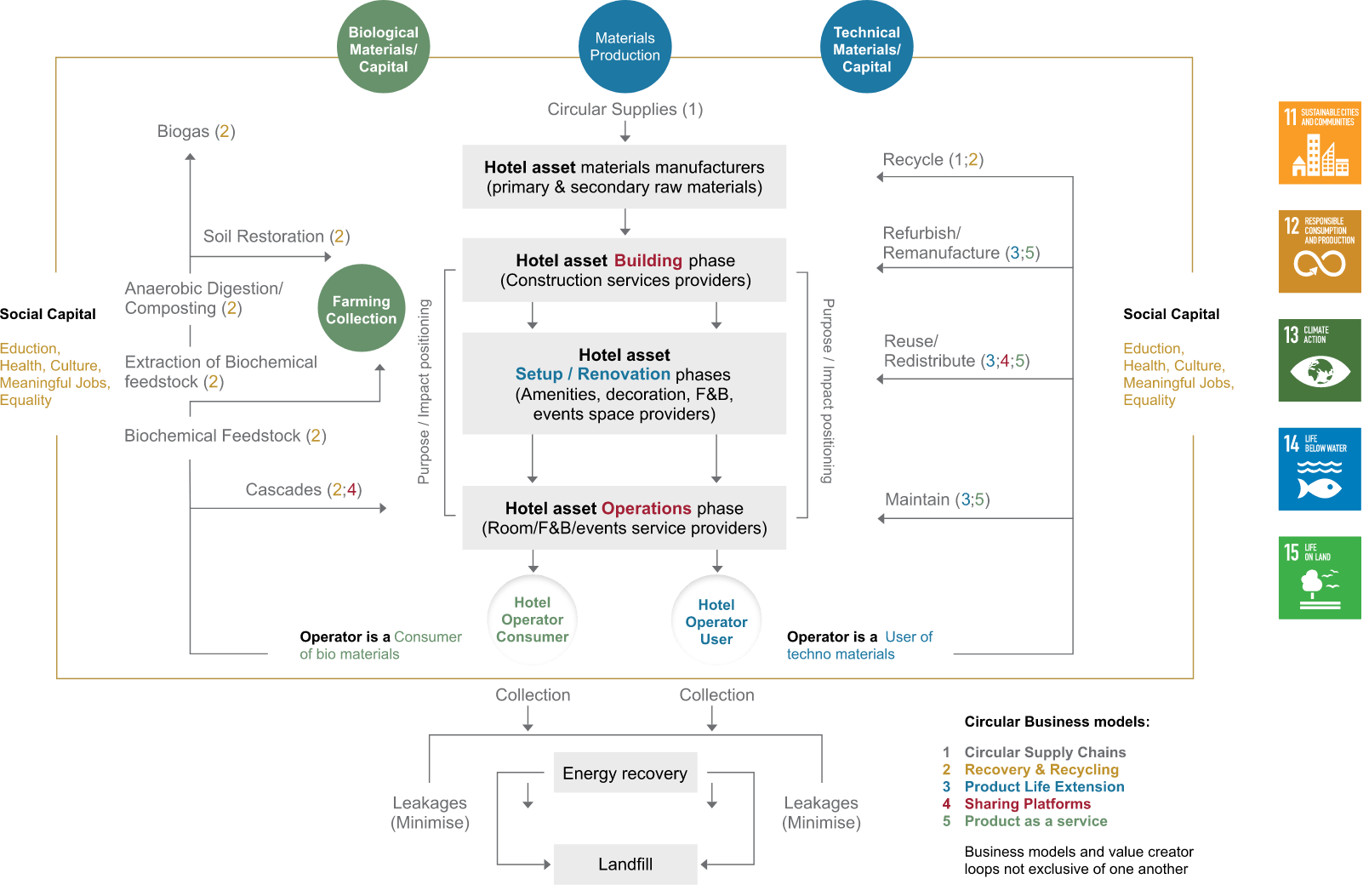 Group-wide Commitment
Business Driver: AWC towards circular economy
Each Thai people normally generates waste at 1.15 kilogram per person. In 2018, there were 28 million tones of waste generated in Thailand. With lack of appropriate waste management, the result will interfere both direct and indirect impact to environment. In addition, the disruption to food supply due to the increasing number of world population will worsen the situation waste in both a business and moral imperative.
Hence, the Circular Economy will be the key solution to solve those problems as it promotes the regenerative model of make-use-return. This concept also includes the approaches of "resource maximization, waste separation, and proper disposal" to preserve natural resource and pass it to the next generations.
Climate Change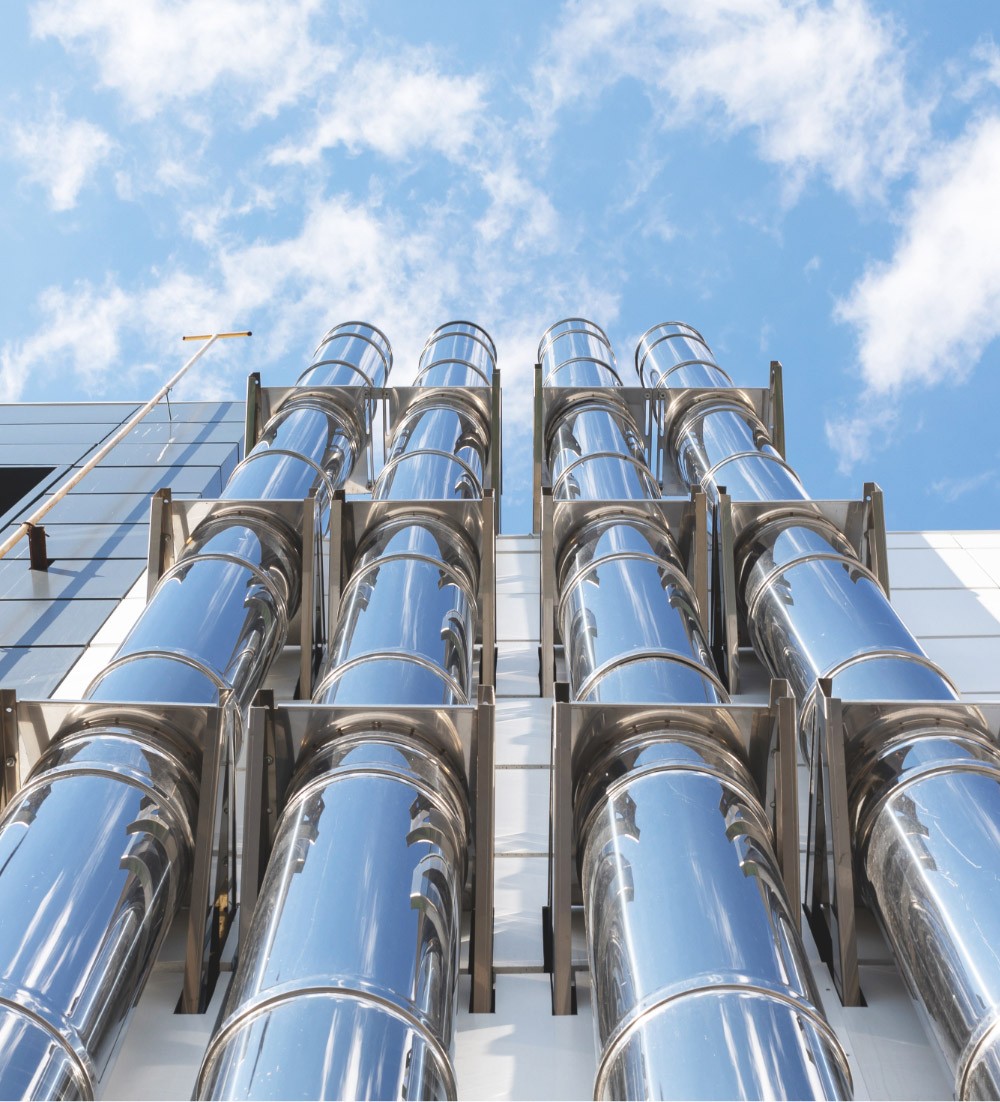 Climate change is a matter of sustainability of the real estate industry due to the significant energy to construct and operate the business. AWC understands and acknowledges its role in combatting climate change through its operations. In 2020, Energy Saving Initiatives (ESIs) were implemented to reduce electricity consumption and reduce CO2 emission.
AWC focuses on Heating, Ventilation, and Air-conditioning (HVAC) systems, including chiller plants, air handling units, fan coil units, and ventilation fans, which consume up to 60% of total electricity consumption. The HVAC technology optimizes the chilling plant's control with a self-adapting control algorithm to efficiently utilize the energy. The pilot project starts at higher electricity consumption assets in four business units, including Bangkok Marriott hotel, The Surawongse, Athenee Tower, Empire Tower, and Pantip Ngamwongwan. It is on a plan to expand the ESI to cover all of AWC's assets.
Additional to the ESI mentioned above, AWC finds other opportunities to reduce electricity consumption. The LED lighting replacement project has been encouraged to all assets across four business units to implement this plan as appropriate. In 2020, 20 assets adopted the project. AWC is conducting a survey and designing a rooftop solar photovoltaic cell system for eight assets. The energy conservation concept for the latest projects, including A Siam Asiatique District BKK and Aquatique District Pattaya, is in accordance with the LEED green building standard. Determining to tackle climate change issues, AWC plans to apply for international green building certifications such as LEED and WELL2.
Continuously implemented in 2020, the ESI reduced electricity consumption by 11,370,826 kWh (equal to 40,934,973.60 MJ) and reduced GHG emissions by 8,039.63 ton-CO2eq.compared to the previous system. AWC believes that the continuous implementation of those measures in 2021 will reduce energy consumption approximately 1.98% (based on the performance of Energy Saving Initiatives (ESI) in 2019 as baseline).
Energy Consumption Reduction
(kWh)
Greenhouse Gases Emission Reduction
(kgCO2e)
1 LEED (Leadership in Energy and Environmental Design)
2 WELL (WELL Building Standard)
Waste Management
Food loss and food waste (FLW) are morally and environmentally irresponsible due to its carbon footprint impacts to the environment and to the global food security.
We are aware that FLW reduction is imperative and that it aligns with the UN Sustainable Development Goal 12, Target 12.3 which seeks to "by 2030, halve per capita global food waste at the retail and consumer levels and reduce food losses along production and supply chains, including post-harvest losses."
As a result, it is our priority to help eliminate hunger and malnutrition, promote sustainable production and consumption of food, while reducing global climate change caused by food waste.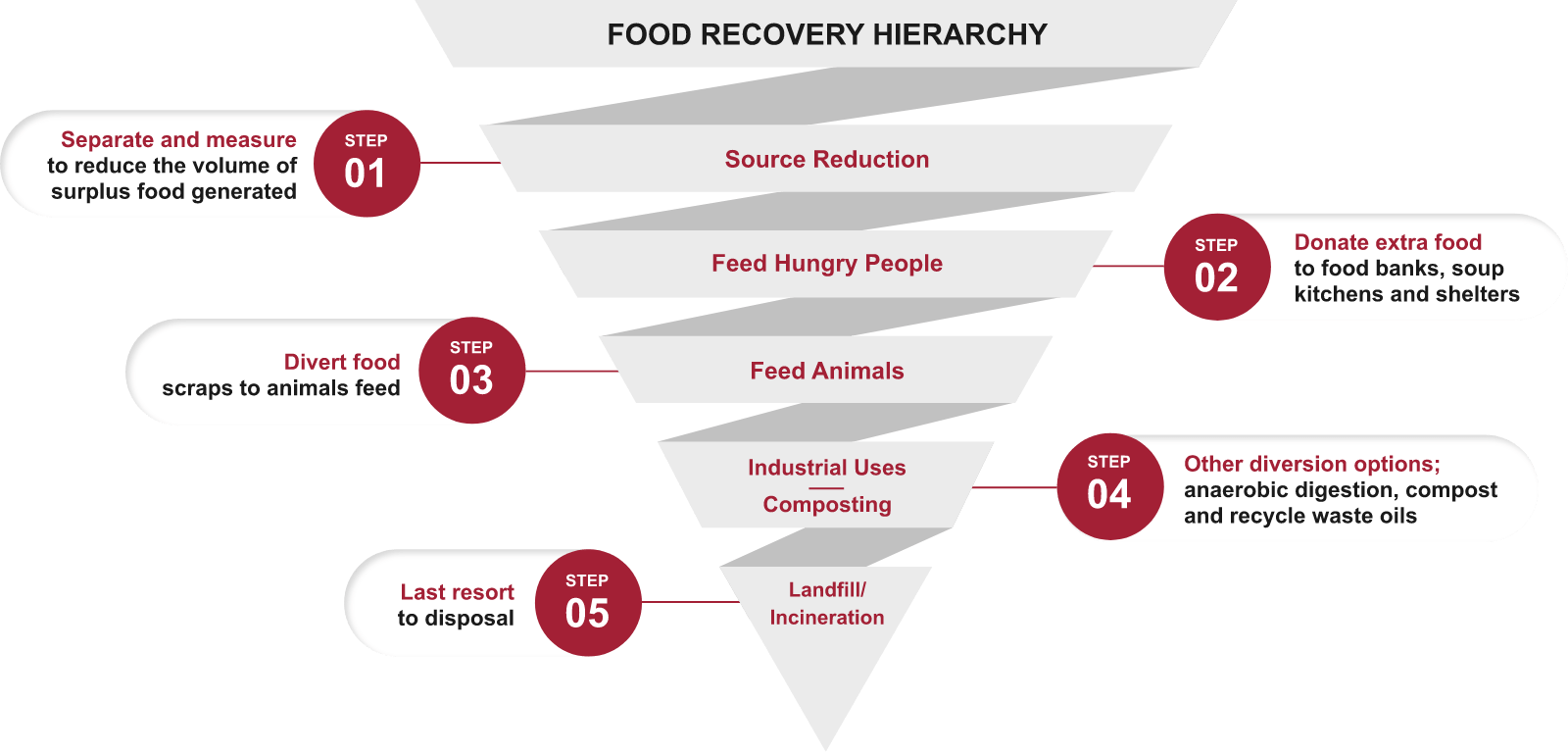 Group-Wide Commitment and Target
At AWC, it is our priority to reduce the overall FLW and to employ circular model across our hotel affiliates' value chains. By that, we encourage our affiliated hotels to adopt and uphold the specific FLW commitments that were announced by each of the hotel brands.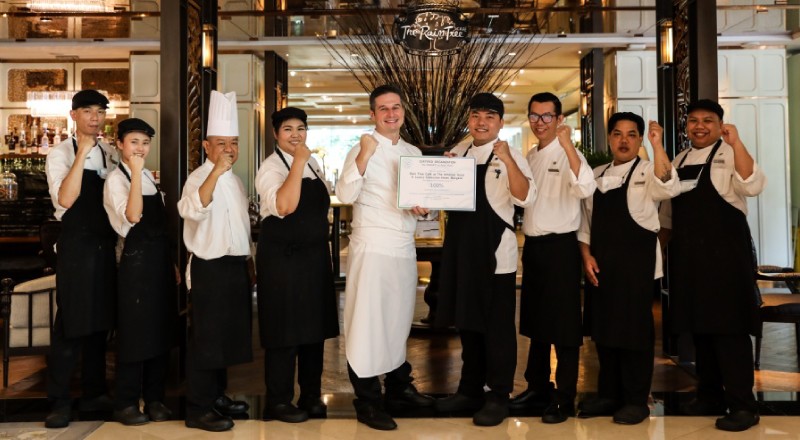 Banyan Tree's
Banyan Tree's long term goals are to reduce food waste by 30% and divert 50% from landfill by 2025, with a 50% reduction and 100% diversion by 2030.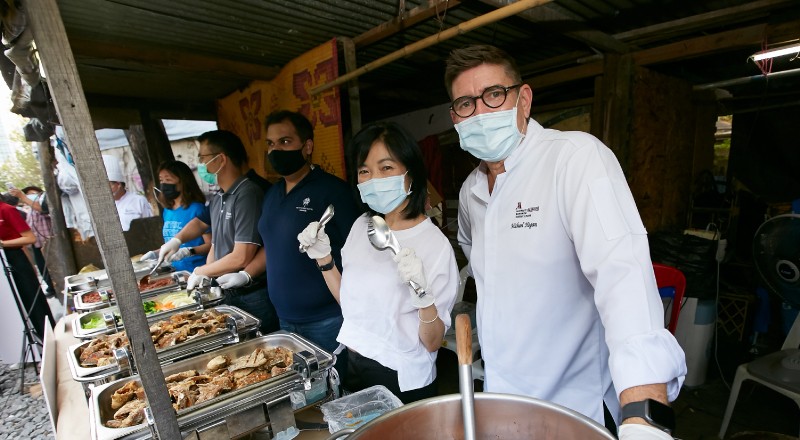 Hilton
Hilton is committed to cutting food waste by 50% by 2030.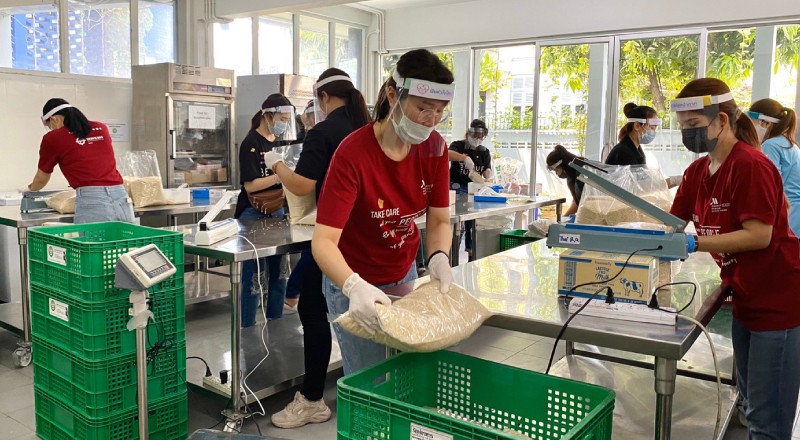 Marriott
Marriott is committed to reducing food waste by 50% by 2025
2020 FLW Progress Report
Green packaging Initiatives:
Replace the single-use toiletry bottles of shampoo, conditioner and bath gel in guestroom showers with larger, pump-topped bottles
Aim to phase out single-use plastic packaging such as to remove plastic straws, stir sticks and cocktail picks and remove the plastic water bottles from all meetings and events
Promote the use of plastic substitute material such as using coconut shell for beverage, bamboo for food container, Japanese decorating cloths instead of plastic bag
The reConcept Store
We intend to establish the reConcept store to promote upcycling of old furniture and materials by redesigning the used furniture, decorative collectibles, appliances, and craftwork rather than throwing away.
Part of the revenue generated from selling the recycled goods will go to the Asset World Foundation for Charity (AWFC).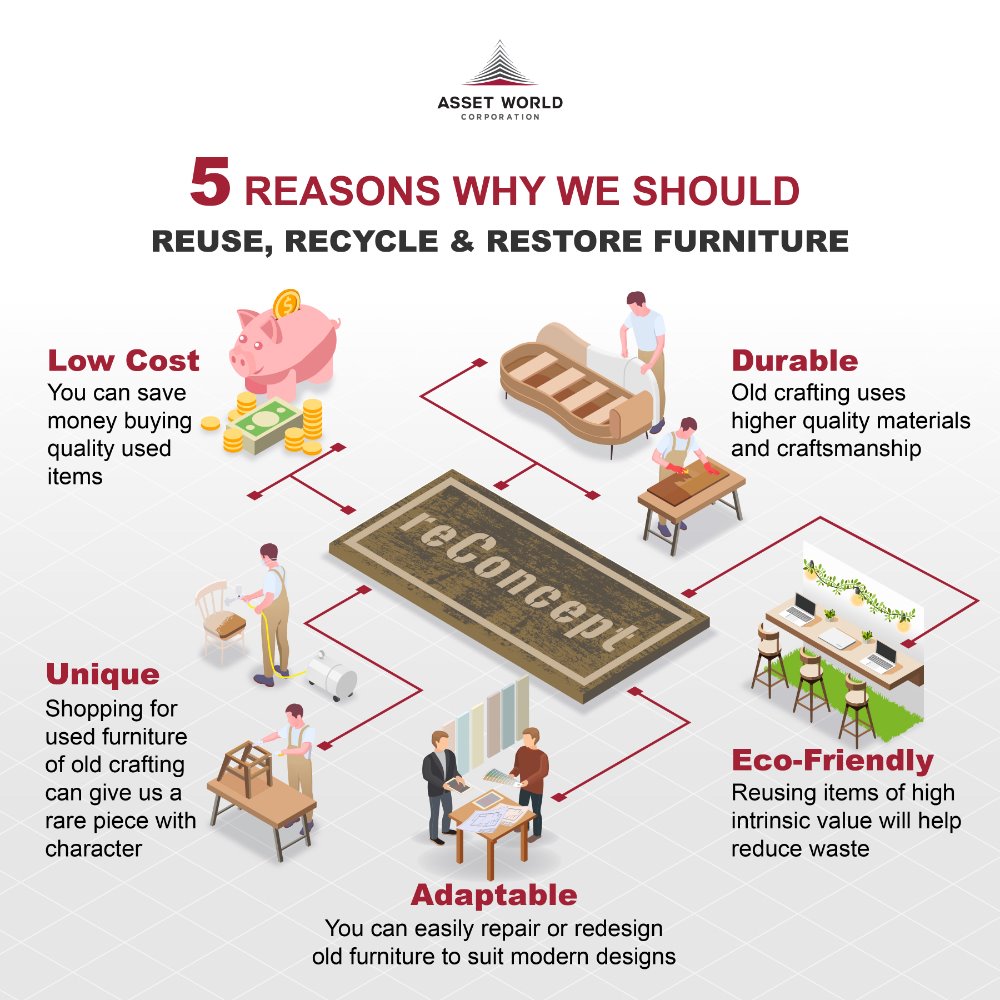 BIODIVERSITY
Asset World Corp Public Company Limited and its subsidiaries operate the businesses with transparency and recognize the importance of environmental protection. Therefore, apart from promoting environmental protection, the company is focusing on biodiversity protection and against deforestation. As such, the Company provide trainings for employees, communities, and related stakeholders to cultivate and understand the efficient use of resources.
BIODIVERSITY EXPOSURE AND ASSESSMENT
Number of Sites
Area (Hectares)
1. Overall - total number of sites used for operational activities
22
134.98
2. Assessment - biodiversity impact assessment for sites used for operational activities in the last 5 years
22
134.98
3. Exposure - number of sites that are in close proximity to critical biodiversity
0
0
4. Management Plans - number of sites that have a biodiversity management plan
All AWC properties are complied with mandatory standards and applicable regulations. In the case of any exposure to biodiversity-risk areas in the futures, AWC will develop biodiversity management plan to evaluate, monitor and take appropriate mitigation actions as required by applicable regulation.
SEA TURTLE LAYS EGGS AT BANYAN TREE SAMUI BEACH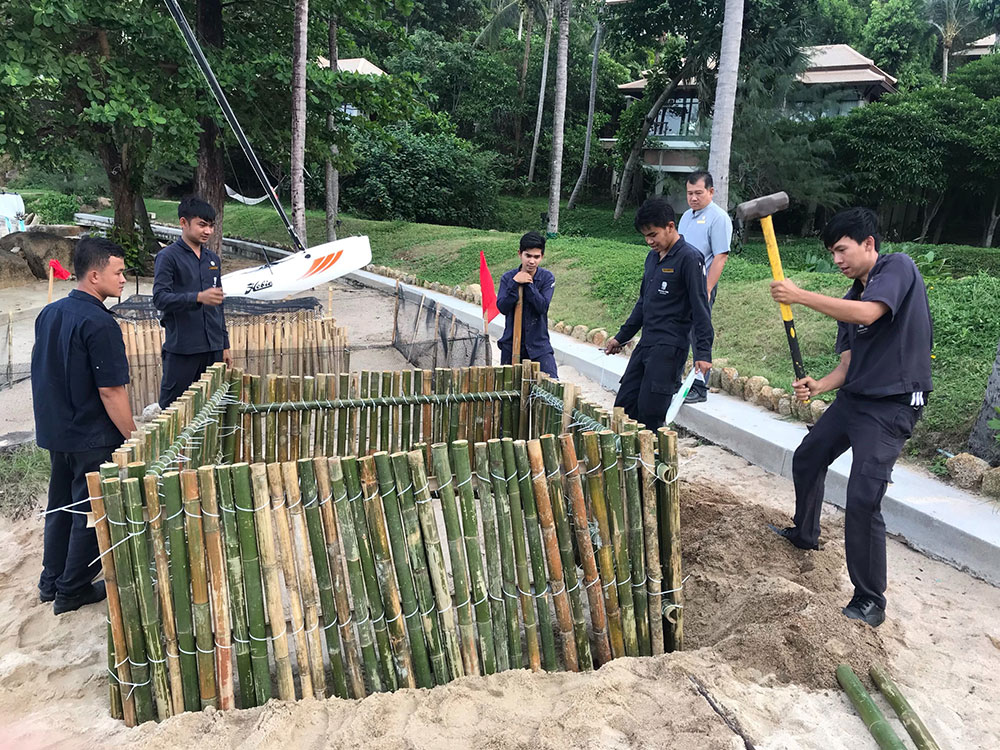 Green Turtle is known to only nest on quiet beaches, far away from humans. It has been classified in the International Union of Conservation of Nature's (IUCN) red list as an endangered species. From February to May 2020, Banyan Tree Samui spotted one green turtle nesting over 600 eggs from 5 nests on the beach. The green turtle nest is spotted for the first time this year after it has disappeared from Koh Samui's beach for over 6 years.
The resort and the Department of Marine and Coastal Resources (Chumporn Research Center) move the eggs (2 out of 5 nests) above tide level to increase these turtles' survival rate. They then built nursery zones to protect the eggs from predators. In May 2020, there were 269 successful hatchlings. Banyan tree has restricted all construction projects along the beach to protect coral reefs and preserve the shoreline biodiversity. The resort continues to monitor for turtle nesting signs along the shore, hoping for more turtles to return for nesting.