AWC partners with Koelnmesse, one of the world's leading trade fair organizers, to develop omni wholesale platform and creating Thailand as global wholesale destination
14 September 2023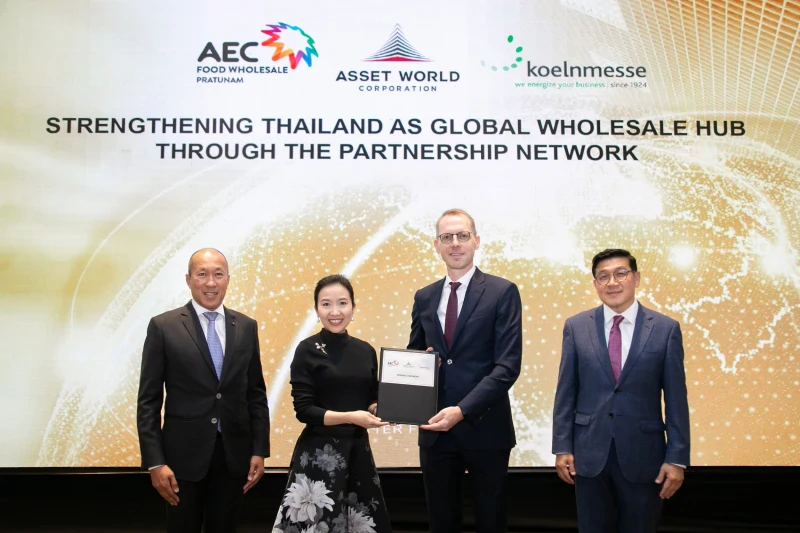 AWC join hands with Koelnmesse as part of the continuous development to launch the integrated omni wholesale platform by synergizing the network of AWC and Koelnmesse wholesale ecosystem in the global scale
Collaboration will enhance Thailand's wholesale industry to offer our partners, sellers and buyers, the global network through both AWC's offline and online model, while delivering cross marketing and partnership benefits for non-stop opportunities
AWC plays a vital role as a supporting organization for the "THAIFEX-HOREC Asia" event co-organized by Koelnmesse in March 2024 to jointly strengthen the tourism industry together
Bangkok, 14 September 2023 – Asset World Corp Public Company Limited or AWC, Thailand's leading integrated lifestyle real estate group, joins hands with "Koelnmesse," one of the world's leading trade fair organizers located in Cologne, Germany, and the organizer of Anuga, the world's largest food and beverage trade fair with more than 7,000 exhibitors participated, as part of an expansion of AWC's Wholesale business ecosystem to a global network. The connection of local, regional and international wholesalers and buyers between Koelnmesse and AWC networks will enhance extensive business opportunities and foster robust and resilient networks, reinforcing Thailand as the Kitchen of the World, while ultimately strengthening Thailand's wholesale industry both regionally and around the world.
As part of the partnership, AWC will also support "THAIFEX-HOREC Asia", the hospitality focused expansion of the renowned THAIFEX-ANUGA Asia, with access to AWC's network of award-winning hotel properties. THAIFEX-HOREC Asia, where trends and innovations of hospitality take center stage, is set to shape the future of HORECA right in the heart of Asia's leading market, while strengthening the whole tourism industry and benefiting Thailand's tourism strategy as one of the leading global destinations. The trade fair will take place from 6 to 8 of March 2024 at IMPACT Muang Thong Thani.
Mrs. Wallapa Traisorat, Chief Executive Officer and President, Asset World Corp Public Company Limited or AWC, said, "Through this collaboration, AWC and Koelnmesse will create extensive business opportunities and advance Thailand's position as a prominent global sourcing hub. We are excited to welcome Koelnmesse, one of the world's leading trade fair organizers, to develop the synergy in strengthening wholesale ecosystem for AEC Food Wholesale Pratunam, AEC Trade Center, and PhenixBox — an omnichannel platform which connects trading activities both offline and online, together with permanent and event-based model. We will unite our robust network by leveraging the AWC network, which includes internationally renowned hotel operators, TCC food producers and partners, restaurants, wholesalers, and suppliers, to connect with exhibitors and buyers within Koelnmesse's global network as well as co-developing the wholesale business model for the future."
The collaboration with Koelnmesse will allow AWC to further extend its wholesale ecosystem partnership beyond food industry leaders from the public and private sectors who have joined forces since last April to build Thailand into an international food sourcing destination for the region including Chambers of Commerce from various countries, Yiwu, Ant Group, CPF Global Food Solution Public Company Limited, Betagro Public Company Limited, Thai Union Group Public Company Limited, Khao MahBoonkrong Company Limited, TIPCO Foods Public Company Limited, KCG Corporation Limited, TCC Group and AWC affiliated hotels.
Mr. Mathias Kuepper, Managing Director & Vice President Asia Pacific, Koelnmesse said, "Koelnmesse is delighted to have AWC join us on this exciting journey. This strategic partnership with AWC as a leading Thai entrepreneur in real estate across various business sectors, will bring the shared value and our network together to create the unique positioning and promote Thailand as a leading wholesale hub in the region through AWC and Koelnmesse's online-offline marketing channel, while collaborating to develop value- added services for THAIFEX-HOREC Asia and THAIFEX-ANUGA Asia exhibitors and buyers. This will also be delivering the benefit to all partners in the wholesale ecosystem and showcase both present and future landscape of the food and hospitality industry. Together, we will enhance Thailand as leading wholesale destination in the region."
"Through a strong collaboration with our existing public and private partners, combined with Koelnmesse's involvement, shared vision, and partnership, AWC believe to create a new benchmark for a comprehensive Wholesale business ecosystem, with wholesale food as our first category. There are also opportunities for more categories to come in our phase II expansion at the AEC Trade Center Pratunam Pra-In. Our goal is to strengthen the entire country's wholesale industry, designed to meet evolving business requirements and foster boundless business opportunities for wholesale businesses. This aims to drive the growth of economy and trade through the development of the wholesale industry on both a regional and global scale for Thailand to become a strong and sustainable international sourcing hub in the region." Wallapa concluded.