AWC Partners with 2C2P to Power Advanced Digital Payments Solutions, Strengthening Digital Ecosystem, Enhanced with Co-Living Collective: Empower Future at 'The Empire'
05 September 2023
AWC welcomes global payments platform 2C2P's upcoming move to their new Thai office at 'The Empire', enabling them to further advance their support for digital ecosystem development in Thailand and the Asia Pacific region.
'The Empire' will offer tenants the largest Co-Living ecosystem – complemented with AWC Infinite Lifestyle (AWI) benefits.
This cutting-edge project is designed to cater to the unique working lifestyle experiences of next-Gen employees and foster connections among leading digital technology companies through the offline-online model.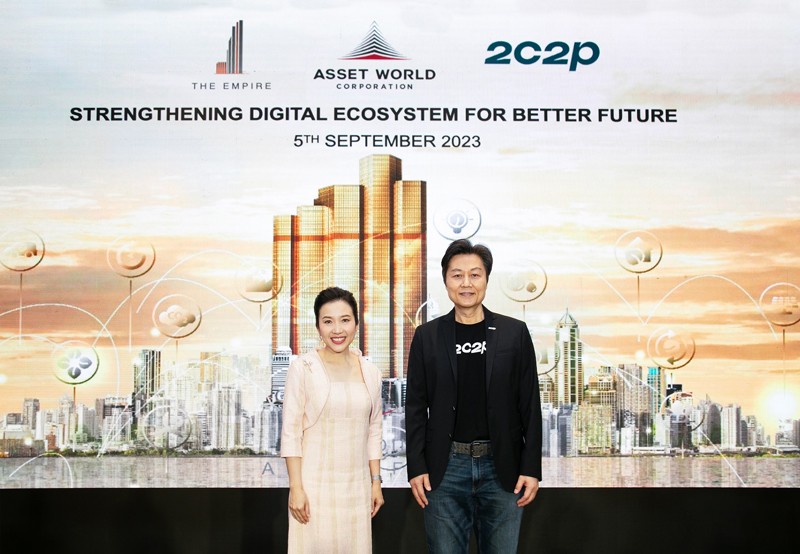 Bangkok, Thailand, 5 September 2023 – Asset World Corp Public Company Limited or AWC, Thailand's leading integrated lifestyle real estate group, welcomes 2C2P (Thailand) Co., Ltd., a global payments platform, to 'The Empire'. This innovative lifestyle office building is designed to embrace the future of work-life integration.
AWC and 2C2P will partner to further strengthen the digital ecosystem at 'The Empire', serving the needs of leading international tech companies and fostering connections among businesses, individuals, and the community. This will be achieved through The Empire's unique 'Co-living Collective: Empower Future' concept and AWC Infinite Lifestyle (AWI) benefits - an exclusive privilege program for tenants - creating an ideal space for both work and leisure. The Co-living space also provides for networking among tenants, the sharing of knowledge through events, workshops and seminars, and creates opportunities for business cooperation.
Mr. Piyachart Ratanaprasartporn, Chief Executive Officer of 2C2P (Thailand), said, "2C2P's vision is to provide a comprehensive payments gateway solution and support the payments infrastructure of the digital ecosystem through our extensive partner network, as payments constitute the foundational backend of ecosystem solutions. At 2C2P, we believe that our people are the foundation of our success. We take care of our employees and seek to provide them with the means to achieve a good balance between work and life. Thus, we selected 'The Empire' as our new office location to drive our company's growth. Our decision is rooted in our strong confidence in 'The Empire' and its unique co-living and collaborative spaces, which align with our commitment to providing work-life integration for our employees and prioritizing their well-being."
"The Empire's exclusive Co-living and collaborative spaces, and the building's world-class facilities, central location, and privileges, correspond perfectly to the lifestyle and work preferences of 2C2P's employees. With the AWI privilege program, our team will enjoy tailor-made offerings that not only enhance The Empire's Co-living amenities but also bring joy to our employees through exclusive tenant-only privileges and access to AWC's extensive network of exclusive brands and partners in the hospitality, retail, and commercial sectors."
Mrs. Wallapa Traisorat, Chief Executive Officer and President of Asset World Corp Public Company Limited (AWC), said, "AWC shares the same belief with 2C2P to provide the best collaborative and dedication to build the happy workplace for employees, therefore we are very pleased to welcome 2C2P to 'The Empire'. We believe that 2C2P's strengths and remarkable innovation in digital payments, combined with The Empire's strengths that are designed to facilitate the seamless integration of work and lifestyle under the concept of 'Co-Living Collective: Empower Future,' will contribute to the advancement of the integrated digital ecosystem. In addition, this Co-living space will cultivate a diverse community of like-minded people to come together for purposeful and mutually beneficial interactions. Both tenants and employees can build networking opportunities within the Co-living both offline and online platform to grow and develop; share knowledge with the strong professional community through events, workshops or seminars; or nurture relationships with other tenants for potential business cooperation. This collaboration will effectively address the needs of workforce in the ecosystem and foster boundless growth in building a better future for our people together."
The 2C2P office will occupy a spacious 3,000 square meters, designed to accommodate over 300 employees. The official opening of the 2C2P office is scheduled for January 2024.
Located in the heart of Sathorn's CBD, 'The Empire' is a Grade A office building equipped with state-of-the-art tech facilities and boasts the largest Co -Living ecosystem and Collaborative Spaces of its kind in Thailand, seamlessly integrating workspaces with recreational areas to connect tenants and employees from leading companies within the digital ecosystem. Furthermore, responding to the work and lifestyle needs of The Empire's tenants and the next-Gen of employees, AWI will provide exclusive offers, products and services across all AWC's top quality hotels and commercial properties that go beyond just the utility value of a building, aiming to enhance the overall digital ecosystem of 'The Empire'.
"AWC is also partnering with 2C2P in our new real estate lifestyle app, Pikul, which will be a unique omnichannel integrated platform that uses best-in-class Sales, Gifting and Gamified rewards journeys. Pikul will also work with 2C2P to embrace the power of its comprehensive payment gateway, e-wallet and prepaid card issuing solutions to scale The AWI (AWC Infinite Lifestyle) Loyalty Program via customer-centric and tailor-made payment solutions for the Pikul platform," Wallapa added.
"AWC is also promoting 'The Empire' as a world-class workplace for leading organizations, creating an ecosystem and embracing digital technology that has become the core of every business. It will respond to business growth as well as the happiness and people's lifestyles through a new Co-Living model, both offline and online. 'The Empire' opens doors to welcome even more of the world's most forward-thinking companies to foster sustainable growth, expand networks and enhance cross-industry solutions through new initiatives to strengthen our ecosystem that will deliver benefits for all. Wallapa concluded.