'AWC' launches "The Siam Tea Room", a traditional and unique Thai restaurant at Asiatique The Riverfront Destination, strengthening the world-class tourism destination along the Chao Phraya River
11 April 2023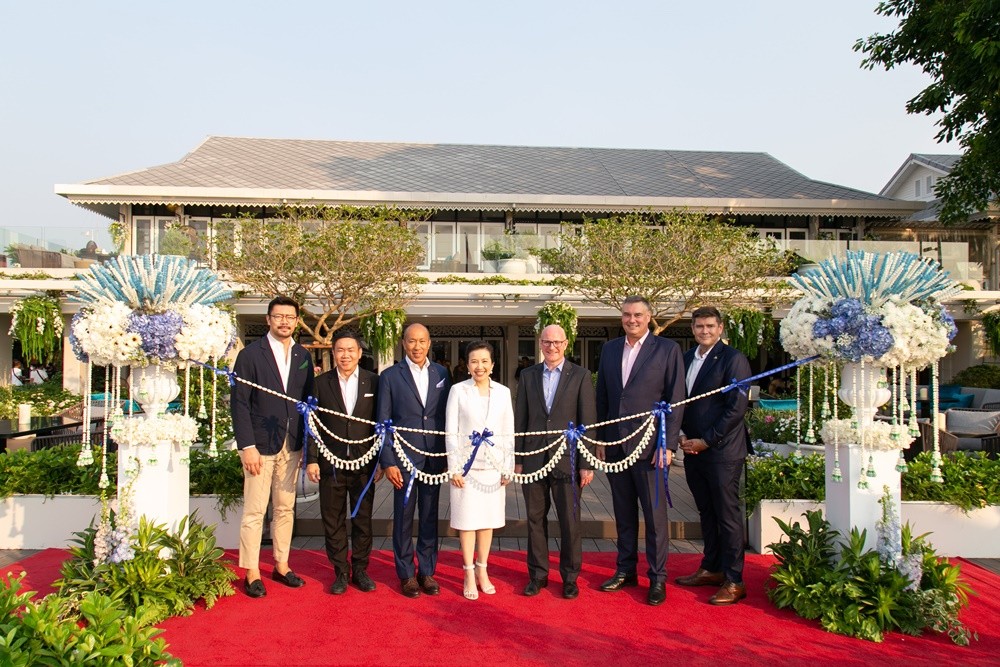 Bangkok, April 10, 2023 - Asset World Corp Public Company Limited (AWC), Thailand's leading integrated lifestyle real estate group, launches "The Siam Tea Room", a traditional Thai restaurant with its special uniqueness at Asiatique The Riverfront Destination, which will offer special menus created by Bangkok Marriott Marquis Queen's Park. The restaurant's opening aims to strengthen Asiatique The Riverfront Destination to become the ultimate lifestyle tourism landmark along the Chao Phraya River, with a diverse food and beverage selection along the city's longest river walkway, while promoting Thailand as a global culinary destination.
Mrs. Wallapa Traisorat, Chief Executive Officer and President, Asset World Corp Public Company Limited or AWC, said that, "The recent launch of Disney100 Village at Asiatique to celebrate Disney's 100th anniversary offered a special experience under the concept of "ALL DAY EVERYDAY HAPPINESS". One of main ideas behind creating the experience was to have the "LARGEST FOOD AND BEVERAGE SELECTION", presenting the world-class restaurants and beverage selection along the longest river walkway in Bangkok. AWC continues to move forward with its commitment to create a collection of special restaurants by introducing "The Siam Tea Room," an authentic local Thai restaurant with distinctive uniqueness, using high-quality local ingredients sourced from all regions of Thailand and each dish meticulously crafted based on traditional Thai recipes that showcase the unique art and culture of Thai cuisine. The newly launched restaurant will cater to everyone's lifestyle, every day at Asiatique The Riverfront Destination."
The Siam Tea Room offers authentic Thai cuisine based on recipes passed down from the grandmother of "Chef Aony - Aunkool Poolpipat", the head of the Thai cuisine division who has been a leading figure in the Thai culinary scene for over 10 years. The restaurant is distinctive with its use of fine local ingredients that are crafted according to authentic Thai traditions. Highlights on the menu include Spicy pungent orange salad with crispy fried gourami, a grandmother's traditional recipe of pomelo spicy salad, mixed with bitter orange dressing, added crunchy fried gourami and sweet pork, topped with bitter orange peel that make this spicy salad a perfect delicious plate, Grilled pork ribs made from free-range and hormone-free pork, marinated overnight and grilled over low heat, coated with tamarind sauce that give a full flavor and topped with roasted rice, fried chills and kaffir lime leaves. Crab curry with betal leaves, The Siam Tea Room's traditional recipe of rich and spicy yellow curry with a blend of selected tender crab, served with Vermicelli noodles. These dishes are complemented by a dessert of Sticky rice with ripe mango and young coconut, using a selection of ripe and big mangoes, served with sticky rice and topped with fragrant and sweet coconut milk, along with freshly baked bread and many delicious tea and coffee options that are specially sourced and delivered from the hills of Northern Thailand.
"The Siam Tea Room" is inspired by contemporary design which blends Thailand's art into all elements, from a two-story wooden building with a banquet facility area and a private dining room, carefully planned interior and exterior layouts for a view of the Chao Phraya River, and detailed interior decoration such as gable-patterned furniture, potted plants, rain gutters, as well as dining utensils, providing a warm experience of the traditional Thai kitchen every time customers visit. With its charm and traditional Thai atmosphere, the first "The Siam Tea Room" at Bangkok Marriott Marquis Queen's Park was selected in the CTripSelect Gourmet List in 2018 and Tripadvisor in 2019. The Siam Tea Room at Asiatique The Riverfront Destination is situated near the "Srimahannop," a historic ship that brought prosperity from the West to Siam, and the "The Crystal Grill House," which functions like a welcoming lounge for merchants from around the world arriving in Siam at this pier. Surrounded by the beautiful scenery of the Chao Phraya River, The Siam Tea Room is an ideal place to relax and indulge in traditional Thai cuisine in its original form.
"The launch of The Siam Tea Room is also part of promoting the image of Thai tourism on the global stage as a popular cultural culinary destination. AWC believes that 'The Siam Tea Room' will be a destination for both Thai and foreign tourists from all over the world who are passionate about the unique art of Thai cuisine. The Siam Tea Room will fulfill the experience of traveling along the riverside in accordance with AWC's strategy to provide a LIFESTYLE EXPERIENCE, which will seamlessly connect tourism, hospitality, and travel along the Chao Phraya River, the precious river of the country," concluded Mrs. Wallapa.
The Siam Tea Room Restaurant opens daily from 10.00 - 00.00 hrs. at Asiatique The Riverfront Destination. Please make a reservation in advance at 02-059-5999 or by email restaurant-reservations.bkkqp@marriotthotels.com