"AWC" launches "THE PANTIP LIFESTYLE HUB" to create "EVERY HAPPINESS FOR EVERYONE" space in central Chiang Mai
10 April 2023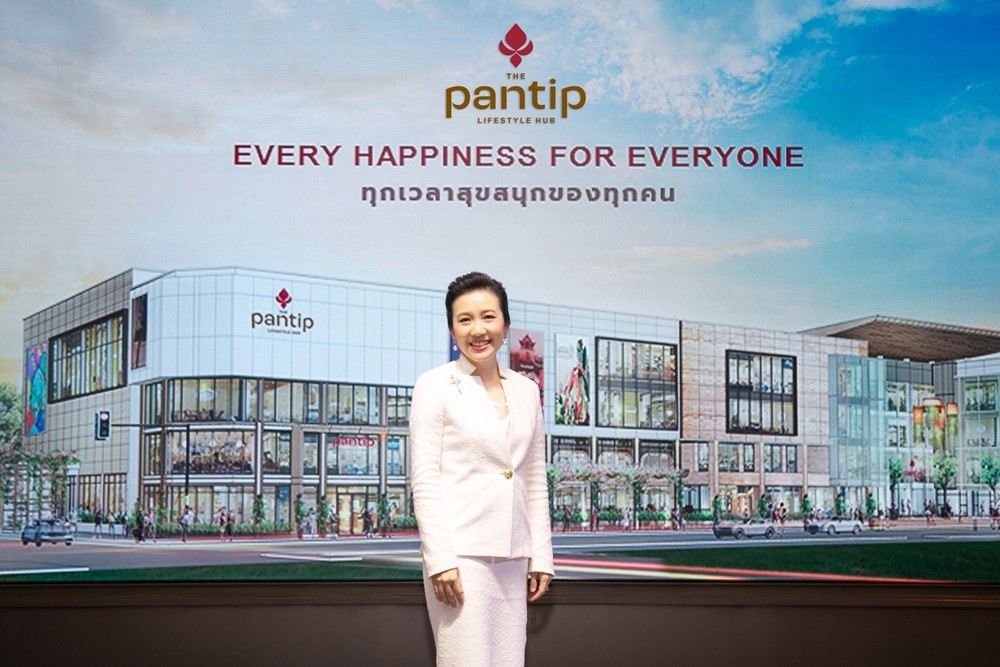 Bangkok, April 10, 2023 – Asset World Corp Public Company Limited or AWC, Thailand's leading integrated lifestyle real estate group, launches "THE PANTIP LIFESTYLE HUB" in Chiang Mai under the concept of "EVERY HAPPINESS FOR EVERYONE" offering a variety of fun activities, a food lounge or renowned restaurants and lifestyle markets for the whole family. Resembling large family living room, the hub will create a "LIFESTYLE EXPERIENCE" to serve the needs of all customer groups, lifestyles, and generations in one place. The project, with an investment value of 800 million Baht, is operated with a sustainable development focus to support both the environment and local community.
Mrs. Wallapa Traisorat, Chief Executive Officer and President, Asset World Corp Public Company Limited or AWC, revealed that "The concept of "EVERY HAPPINESS FOR EVERYONE" at THE PANTIP LIFESTYLE HUB aims to serve the needs of all modern consumers and create a LIFESTYLE EXPERIENCE through shops and services for every family member across a total area of 13,000 square meters. Moreover, THE PANTIP LIFESTYLE HUB is located in a prime area of Chang Khlan Road, a business and tourist area of Chiang Mai near Ping River and the Night Bazaar. Other AWC projects including Le Meridien Chiang Mai, Melia Hotel Chiang Mai, Dusit D2 Chiang Mai and InterContinental Hotel Chiang Mai Mae Ping are also in the same area. AWC believes that combining the best experiences at THE PANTIP LIFESTYLE HUB − a landmark for fun activities, a variety of restaurants, and lifestyle market for every family member - will help create happiness for the family. It will also be a center of Every Happiness for tourists and Thai people in the city center of Chiang Mai."
Under the concept of "EVERY HAPPINESS FOR EVERYONE," the 800 million Baht investment for the THE PANTIP LIFESTYLE HUB will provide a space for families to have a happy and enjoyable time through three key experiences to fulfill the lifestyle demands of every generation.
ATTRACTIONS: A landmark for a variety of fun activities resembling "THE LARGEST LIVING ROOM" in Chiang Mai with a space of more than 3,800 square meters. The shops and services include leading learning centers and playgrounds for children, while fitness centers, a health and beauty center for the parents, as well as a space for activities to strengthen family relationships in one place.
FOOD LOUNGE: THE LARGEST CONNECTED FOOD LOUNGE featuring iconic menus from renowned restaurants on the most popular delivery platform. Experience a world of Thai and international cuisines with premium ingredients that blend perfectly with the lifestyle of modern people, at affordable prices. The Co-Dining Space is provided for everyone in the family and group of friends to spend time together and enjoy various activities throughout the day in a total area of more than 4,500 square meters.
LIFESTYLE MARKET: A lifestyle destination for everyone. Welcoming all types of gatherings and initiatives, with opportunities for communities and partners to create experiences and programs for groups such as organic product lovers, art & craft lovers, home decorating and gardening enthusiasts, health-conscious consumers, nature lovers, and other activities that create long-term value. Together, they will grow with the community while promoting the value of local arts and culture to pass on the unique values of Thailand ​​to foreigners around the world.
The creation of the EVERY HAPPINESS FOR EVERYONE experience also included the space design based on contemporary Lanna art in all 4 zones which are LANNA GAD – a retail space, famous food stalls and supermarkets in the atmosphere of a modern Lanna market; LANNA ARTISAN – restaurants and IT equipment stores to serve all modern lifestyles, building on the strengths of the shopping center; LANNA AESTHETIC – health & beauty center, fashion items, and mother and child products and; LANNA AMUSEMENT – education center and creative space.
"AWC is confident that THE PANTIP LIFESTYLE HUB under the concept of EVERY HAPPINESS FOR EVERYONE will provide LIFESTYLE EXPERIENCES to serve the needs of all customers, lifestyles and generations in one place and strengthen the tourism industry of Chiang Mai. Together with four AWC hotels located in the Chang Khlan area, this will drive the overall economy while enhancing the competitiveness and attracting tourists from all over the world to Thailand. The project also creates value for all stakeholders under the sustainability strategy to drive Thailand to become one of the world's sustainable tourism destinations," Mrs. Wallapa concluded.