AWC and IHG sign hotel management agreement for Kimpton Pattaya, as part of the Aquatique to strengthen Pattaya as a global beachfront destination
20 March 2023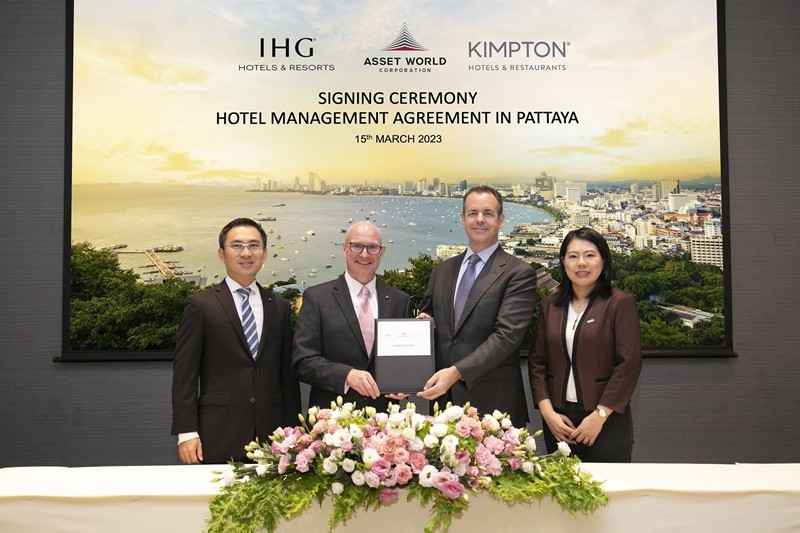 Bangkok, 20 March 2023 - Asset World Corp Public Company Limited or AWC, Thailand's leading integrated lifestyle real estate group, signed a hotel management agreement with IHG, one of the world's leading hospitality companies, to launch the Kimpton Pattaya and further demonstrate confidence in Thailand's tourism industry. The Kimpton Pattaya will be AWC's second Kimpton hotel, located in central Pattaya as part of the Aquatique, and will expand AWC's diverse portfolio of hospitality and lifestyle destinations and aligns with the Company's strategy to develop quality assets in prime locations and bring world-renowned brands to a broader customer base. The hotel will strengthen Pattaya as a global beachfront destination.
Mrs. Wallapa Traisorat, Chief Executive Officer and President, Asset World Corp Public Company Limited or AWC, states, "We are very pleased to continue our long-term strategic partnership with IHG to bring top quality hotel brands to one of Thailand's leading beachfront destination. The launch of the first Kimpton hotel in Pattaya, which comes after signing a multi-property agreement with IHG in 2020, with a fantastic brand offering unique design and award-winning dining experiences for a memorable stay. By bringing world-renowned brands to a broader customer base, the Kimpton will also strengthen Pattaya as a global beachfront destination only about an hour drive away from Bangkok."
"AWC sees strong demand in both the lifestyle luxury and family segments in Pattaya, which is one of the most popular destinations for leisure travelers and business travelers, and aligns with AWC's strategy to develop quality assets in prime locations by expanding our portfolio in central Pattaya. Located in AWC's mega mixed-use project in Pattaya, as part of the Aquatique, the Kimpton Pattaya will elevate the area to a new level of luxury with a world-renowned hotel operator, and a variety of activities in the complex, to help create long-term value, and enrich the surrounding communities and society," Mrs. Wallapa added.
Rajit Sukumaran, Managing Director, South East Asia and Korea, IHG, states, "Our partnership with AWC grows from strength to strength and over the past three years, we have signed over 1,200 rooms across six fantastic properties in Bangkok, Chiang Mai, Hua Hin and Pattaya, with Kimpton Pattaya the latest milestone in the agreement."
"The signing of the fifth Kimpton in Thailand signals the confidence in the brand which already has a strong following amongst affluent and discerning travellers across Thailand. I'm delighted that Kimpton Pattaya is joining Vignette Collection Pattaya – also situated in Aquatique, establishing IHG as a market leader in Pattaya." Rajit concluded
Kimpton Pattaya is scheduled to open in 2028 and will be AWC's second Kimpton hotel after Kimpton Hua Hin, which is expected to open in 2025. Designed under the theme, "Precious time to relax with the healing power of nature", the hotel will have 193-room keys and offer a variety of specialty restaurants & bars, a rooftop bar, a swimming pool, a gym and wellness center, and meeting facilities with a Ballroom. The hotel concept of Pet Friendly & Family, together with a new food and beverage experience to harmonize the local culture, will create a new living experience to meet the demands of today's customers for leisure and Bleisure purposes, appealing to both Thais and local expatriate families. Aligning with AWC's commitment to sustainability, Kimpton Pattaya will be developed to meet LEED and WELL green building standards that prioritize energy saving and a circular economy model on waste management.
With the confidence in the great potential of Pattaya as a global beachfront destination, AWC plans to invest more than THB 22 billion in a number of projects in Pattaya including the Aquatique, a concept devised by AWC which will be a first-of-its-kind in Pattaya as an ultimate all-in-one seaside destination, accentuating the Company's leadership in innovative real estate and paving a new chapter in Pattaya's reputation as a premier lifestyle and tourism hub in Thailand. The project will be the center of all the fun and happiness in central Pattaya, offering the most variety of attractions in one place and comprise a diversified array of exciting commercial spaces including a shopping mall, hotels, a theme park, performance art space, and F&B seafood market, located just steps from Pattaya's beach. Kimpton Pattaya's marks the fifth hotel management agreement under the Aquatique.
AWC currently has one operating property with IHG at Holiday Inn Express Bangkok Sathorn, offering 184 rooms. The Company is expected to quintuple the presence of IHG with over 1,200 more rooms across six future projects in the pipeline across Thailand, including the Kimpton Pattaya and InterContinental Chiang Mai Mae Ping, which will open later this year.