AWC launches the first Fairmont hotel in Thailand under agreement with Accor to elevate Bangkok as a global hub for luxury MICE market
01 March 2023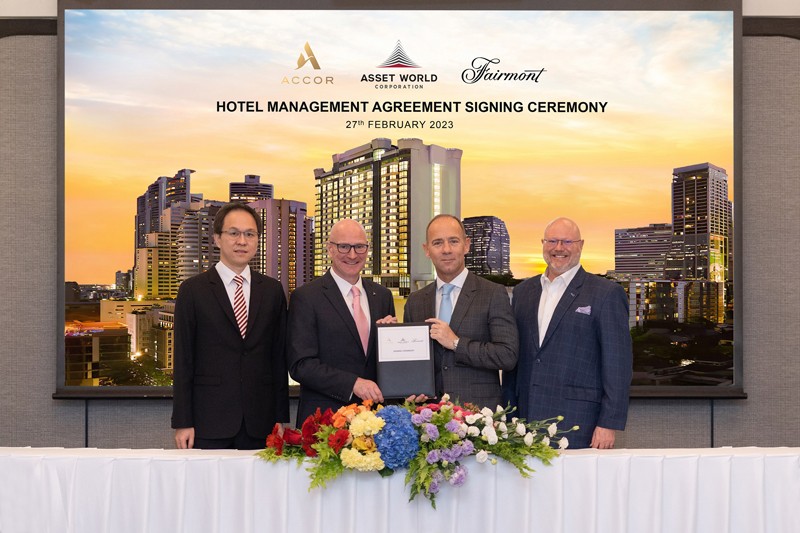 Bangkok, 1 March 2023 - Asset World Corp Public Company Limited or AWC, Thailand's leading integrated lifestyle real estate group, launches the first Fairmont hotel in Thailand under the agreement with Accor that will elevate Bangkok as a global hub for the luxury MICE market. The iconic Fairmont is one of Accor's top luxury brands, with more than a century of history, with hotels positioned in unique locations in major cities across the globe, aligning with AWC's strategy to develop quality assets in prime locations. Fairmont Bangkok Sukhumvit will be the first integrated luxury MICE hotel in Thailand, backed by a strong global partnership to bring a new level of luxury to the capital's CBD while broadening the Company's customer base.
Fairmont Bangkok Sukhumvit is scheduled to open in 2024 following the rebranding of the Grand Mercure Bangkok Windsor, located in the heart of the city's Sukhumvit district, which will bring a unique timeless interpretation of Fairmont's glorious legendary classic design, providing the most iconic and distinctive services together with an unforgettable gastronomic experience.
Designed with "A Tasteful Touch of Elegance and Simplicity," Fairmont Bangkok Sukhumvit will offer approximately 419 room keys and feature a variety of specialty restaurants & bars, a rooftop bar with a spectacular view of the skyscrapers in Bangkok's CBD, a swimming pool, a fitness center, a spa and wellness center, and meeting facilities with a choice of room size and equipped with virtual meeting equipment to meet the demands of today's customers, appealing to both overseas guests and Bangkok residents.
Ms. Wallapa Traisorat, Chief Executive Officer and President, Asset World Corp Public Company Limited or AWC, states, "We are very pleased to launch the first Fairmont hotel in Thailand, which came after signing a multi-property agreement with Accor in December 2022, to further expand our portfolio for the MICE segment throughout strategic locations in Bangkok. Through the Fairmont Bangkok Sukhumvit, we will introduce Thailand and the country's hospitality industry to a legendary luxurious hotel brand with unique offerings. Fairmont Bangkok Sukhumvit will be the first AWC affiliated hotel to be managed by Accor, and the top integrated luxury MICE hotel in Thailand, enhancing the capital as a global hub for the luxury MICE market. The introduction of the Fairmont brand will also strengthen the Thai tourism industry, create long-term value, and elevate the surrounding communities and society."
"At AWC, we have recognized that the luxury meeting market has become one of the fastest growing segments since the end of the pandemic, with AWC's occupancy rate for MICE almost doubling between 2021 and 2022. As one of the most popular destinations in the world for both leisure and business travelers, Bangkok is renowned for its food and culture, and its reputation as a lifestyle destination with strong logistics infrastructure and convenient transportation. Therefore, Fairmont Bangkok Sukhumvit will be ideally positioned to meet the needs of a new era of luxury events with a distinctive and unique design," Ms. Wallapa added.
"We have great trust in AWC, and are delighted to be working together to bring one of Accor's most luxurious brands to Bangkok, as the first Fairmont property in Thailand," said Mark Willis, CEO, Fairmont Hotels & Resorts. "The Fairmont brand is truly legendary, providing world-class services with unforgettable experiences to our treasured guests. We are confident that this partnership with AWC and our shared vision will create a new benchmark for world-class luxury in Bangkok, supporting both the continued growth of the tourism industry in Thailand, as well as the ongoing expansion of the Fairmont brand across southeast Asia."
Throughout history, the high-end Fairmont hotels from North America have offered luxurious rooms, world-class dining rooms, and amazing locations, while also helping guests create everlasting memories. Fairmont Bangkok Sukhumvit will be no different, and will be brought to life through the design story of "The Fantastic Journey of Travel to the Bygone Era," while making the hotel a home away from home for guests. The hotel will offer opulent and sophisticated finishes with well-selected handcrafted classic furniture. Guests can also indulge with a choice of restaurants and bars offering international and Asian cuisine. Aligning with our commitment to sustainability, the hotel will meet LEED and WELL green building standards that prioritize energy saving and a circular economy model on waste management.
Fairmont Bangkok Sukhumvit will be located in the Sukhumvit mid-town and Asoke junction, with easy access to the BTS Skytrain and underground MRT train network, surrounded by offices of multinational companies, Queen Sirikit National Convention Center, and shopping centers including EM District, which will enhance Bangkok as a world-class tourist destination. As the first integrated luxury MICE hotel in Thailand, it will also meet the in-demand needs of the MICE market and be equipped with the latest technology including virtual tools to support a global scale of events.
Fairmont Bangkok Sukhumvit will be the first hotel launched under a multi-property framework agreement signed with Accor, a world-leading hospitality group, to develop and manage hotels across various Accor brands. Under this partnership, AWC and Accor will develop more than 1,000 room keys across multiple Accor-branded hotels in key tourist destinations throughout the country, providing unique offerings and experiences for guests, strengthening sustainable tourism destination for Thailand.