AWC signs agreement with Marriott International to launch The Ritz-Carlton Phuket, creating a new benchmark in luxury hospitality on the island
24 February 2023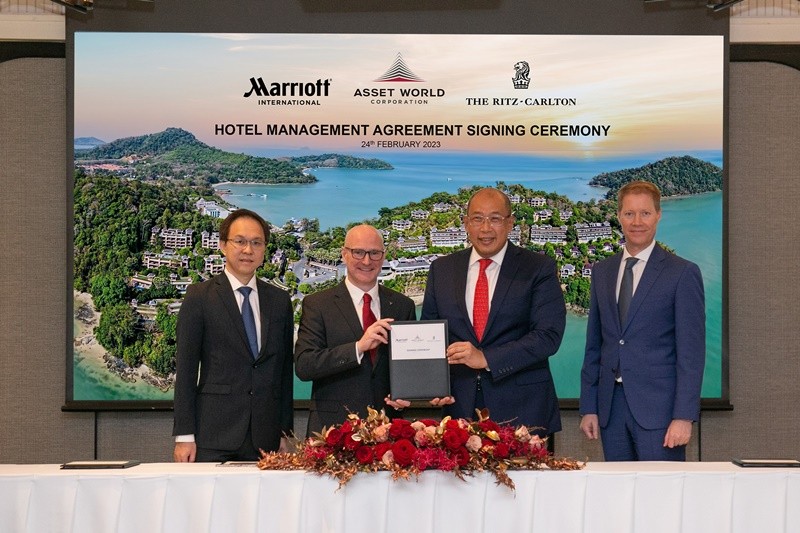 Bangkok, 24 February 2023 - Asset World Corp Public Company Limited or AWC, Thailand's leading integrated lifestyle real estate group, marked a new chapter in the expansion of its diverse portfolio of hospitality and lifestyle destinations through a new hotel management agreement signing with Marriott International for The Ritz-Carlton Phuket. The agreement expands AWC's long-term partnership with Marriott International, a global hospitality leader, which will bring its most luxurious brand to the Pearl of the Andaman. Scheduled to open in 2025, The Ritz-Carlton Phuket will set a new benchmark in luxury hospitality on the island as well as respond to the growing demands of luxury FIT (Foreign Independent Tour) as visitor numbers grow quickly following the full reopening of Thailand.
"The Westin Siray Bay Resort & Spa, Phuket", which AWC acquired in 2022, will undergo an extensive rebranding to create unparalleled The Ritz-Carlton. Upon opening, the hotel will offer a combination of suite rooms and private villas with a breathtaking spectacular scenery view of the Andaman Sea, and the largest hydro-therapy mineral Onsen and integrated wellness offering in Phuket, together with unique features and facilities for all, including families, leisure travelers and for events. Guests will be able to dine and socialize at a choice of restaurants, bars and lounges, work out at the well-equipped fitness center, or cool off in three swimming pool areas. A Spa will incorporate treatment rooms, whirlpools, plunge pools, steam rooms, a sauna, and a beauty salon. Featuring the elegance and legendary service of The Ritz-Carlton brand, the hotel will offer guests the opportunity to participate in special workshops with local craftman or notable local artists in southern Thailand to learn about sustainable values, join beach cleaning events and programs to save sea life, while kids can enjoy the beach house and its various activities.
Ms. Wallapa Traisorat, Chief Executive Officer and President, Asset World Corp Public Company Limited or AWC said: "AWC has great confidence in Thailand's tourism industry, and by partnering with Marriott International to bring the legend luxury brand of the world, The Ritz-Carlton, here will not only strengthen Phuket as a world-class tourism destination but also continue the development of Thailand as a global sustainable tourism leader. AWC has a firm commitment to create top positioning destination with a focus on sustainability, ensuring that we create true value for the environment, surrounding communities and the country toward holistic sustainability and long-term stable growth. We aim to develop The Ritz-Carlton Phuket as the LEED and WELL green building standards that prioritize energy saving and circular economy on waste management, to elevate Thailand becoming a global sustainability destination. The Ritz-Carlton Phuket will be located close to Phuket's old town, immersing guests in the area's rich culture, while it will also be a short distance to the harbor from where they can travel to Thailand's most popular seaside destination.
"The launch of The Ritz-Carlton Phuket will add to AWC's portfolio of hotels in Phuket, which meet the needs of a diverse range of travelers, including the Courtyard by Marriott Phuket Town, for those who love to explore the rich culture of the old town area, Phuket Marriott Resort and Spa Nai Yang Beach, a beachfront resort with a modern touch for family and friends, and The Westin Siray Bay Resort & Spa, Phuket, which will now be transformed into The Ritz-Carlton Phuket, to capture the luxury and MICE demand of travelers across the globe."
Rajeev Menon, President, Asia Pacific (Excluding China), Marriott International, states: "We are pleased to strengthen our long-term collaboration with Asset World Corporation to rebrand and reposition our existing property with today's signing. We are confident that The Ritz-Carlton Phuket, once opened, will be well-positioned to meet the increased demand of luxury travel, in line with the Thailand Government's goal of attracting more discerning travelers to the Thai Kingdom."
AWC is one of the largest owners of Marriott International properties in Asia Pacific, excluding Greater China, with 11 operating properties offering almost 4,000 rooms. The Company is expected to double the presence of Marriott with an additional 4,000 rooms across 14 future projects that are in the pipeline in Thailand, including the new The Ritz-Carlton Phuket.
The Ritz-Carlton Phuket is expected to be AWC's 21st hotel and operating asset in Thailand managed by Marriott International and will feature the concept of "Rustic and Refined" to celebrate Phuket's rich history. The hotel will provide a romantic, relaxing and serene ambiance to support the wellness needs of guests, along with a well-being and nutrition platter, while the hotel's rooms will be adorned with well-selected handcrafted furniture with a perfect mix of natural materials and new fabrics.
"AWC is continuing to expand its diverse portfolio of hospitality and lifestyle with our long-term partnership with a trusted global hospitality leader, by partnering with Marriott International, a world-class luxury hotel brand, to create value and unique offerings in Thailand's hospitality and wellness industries. Together, we are 'Building a Better Future, while bolstering Thailand's competitiveness as a sustainable tourism destination," Ms. Wallapa concluded.