AWC launches "Co-Living Collective: Empower Future" with 1 Billion Baht investment at 'The Empire' Leading new benchmark, strengthening Thailand as world-class destination for global workforce
25 January 2023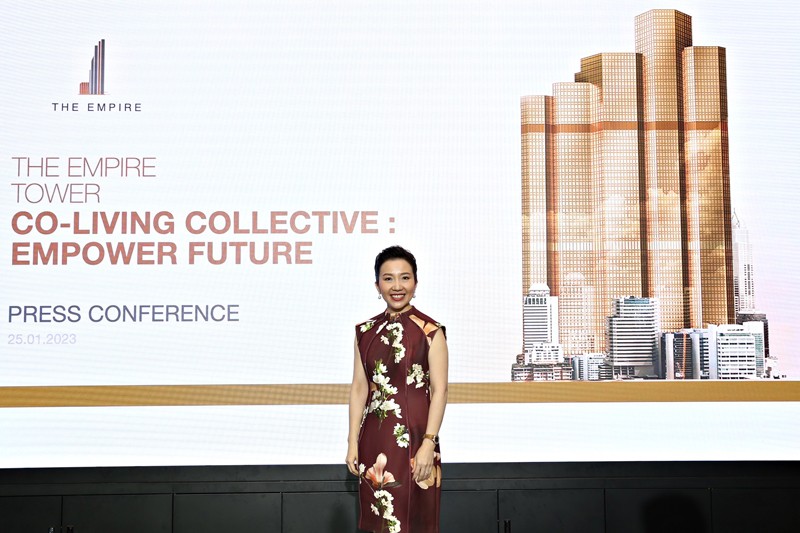 Bangkok, 25 January 2023 - Asset World Corp Public Company Limited or AWC, Thailand's leading integrated lifestyle real estate group, launches "Co-Living Collective: Empower Future" at 'The Empire' with investment of 1 billion baht to set new benchmark at 'The Empire' to become a new revolutionary lifestyle space that embraces the future of work-life integration, Leading new benchmark, strengthening Thailand as world-class destination for global workforce.
The "Co-Living Collective: Empower Future", the first and largest of its kind to offer co-living space to tenants, aims to create a wholly integrated collaborative model of co-living workspace that empower people to achieve their next levels of success in life, both professionally and personally. The Empire is set to redefine modern workplaces and serve as a world-class lifestyle workplace destination with 1,500 square meters of co-living space, bringing home-like experience and large facilities to the workplace such as a living room, a communal open kitchen and dining area, and a kids' room and pets' hotel.
Moreover, "Co-Living Collective: Empower Future", at The Empire will offer EA Rooftop, the largest world-class rooftop and F&B haven with a variety of awe-inspiring international gastronomic offerings, embracing with the hotelization experience offering through AWC Infinite Lifestyle (AWI) while creating sustainable values for all stakeholders. The project is set to be fully launched in 2023.
"Today, new generations of working people are increasingly seeking personal value and purpose at work while striking a balance between work and lifestyle. The roles of physical workplaces have therefore become more multi-faceted to facilitate connection, collaboration and innovation as well as to promote positive employee experiences and retain talents," said Wallapa Traisorat, Chief Executive Officer and President, Asset World Corp Public Company Limited or AWC.
"As AWC's flagship lifestyle office complex that continues to evolve, 'The Empire', currently value at 20 billion baht, is launching series of exciting new benchmark with the aim of creating an integrated collaborative model of 'Co-living Collective: Empower Future' to help people achieve work-life integration," Wallapa said.
The "Co-Living Collective: Empower Future" concept at The Empire is envisioned as productive and collaborative spaces for working people to work with their colleagues while making the best of their creativity and increasing their efficiency, while cultivating a diverse community of like-minded people to get together for valuable and meaningful interactions.
Central to the co-living concept is The Residence at Empire Co-living:. A combination of uniquely designed workspaces on the 53rd floor that offers as a complimentary service for all tenants, aiming at making employees feel at home in a relaxing atmosphere with home-like features such as a living room, a recreational zone, a breakout area for video games and sports tables like pool and table tennis, a communal open kitchen and dining area, a kids' room and pets' hotel, and a nursing lounge for moms and their babies. The design will also include shared communal spaces for individual work, group discussions and meetings as well as a body-mind zone with a nap lounge for a fresh restarts, showers and changing rooms. Other features include a swing floor option, fully or partly furnished workspaces with materials and equipment tailored to tenants' needs, such as flexible partitions, modular furniture, ergonomic furniture, as well as design and decorating advice services for convenience during construction. With a total area of 1,500 square meters spanning across the 53rd floor, the co-living space of The Empire create the new benchmark of the commercial real estate industry.
This year, 'The Empire' is also unveiling 'EA Rooftop', Thailand's new and largest landmark rooftop destination, a fully integrated F&B lifestyle destination spanning over 8,460 square meters, bringing together the world's most renowned culinary experiences in one place. With the design concept under "EA" (eh-ah), The Empire Rooftop derives its name from the meaning of "freedom, air, celebration." Located on 55th to 58th floors of The Empire, EA Rooftop will be an ultimate dining destination, leading by Nobu and many more restaurants, where visitors can enjoy a great variety of gastronomic experiences that cannot be found elsewhere.
AWC also continues to offer Hotelization to all tenants through the AWC Infinite Lifestyle (AWI) application which connect tenants to the entire network of AWC affiliated hotels where they can enjoy hotel facilities and the "Office-Home-Hotel-Retail" concept that aligns with the New Normal lifestyle where people can work from anywhere. As Bangkok's most prominent building, 'The Empire' continues to create sustainable values and is on track to achieve LEED Certification, the standard for sustainable green buildings, and WELL standard to promote the health and wellness of occupants and visitors.
"The Empire strives to become an empowering corporate address, with uniquely curated lifestyle spaces where business and recreation become one by blending Bangkok's dynamism with a wide range of unparalleled service offerings,"
"AWC is committed in building a better future, we believe the Empire will play a key role in driving Thailand as a global destination for international work force. Once the launch is fully completed, the new Empire will become an ideal urban destination that fosters new professional and social circles of like-minded and trend-leading yet socially responsible people and businesses. We will build a better future together with The Empire Co-Living Collective, empower future." said Wallapa.