AWC joins with BMA and partners to donate school and sports supplies to youth and communities through the "Pun Fun" project on Children's Day 2023
16 January 2023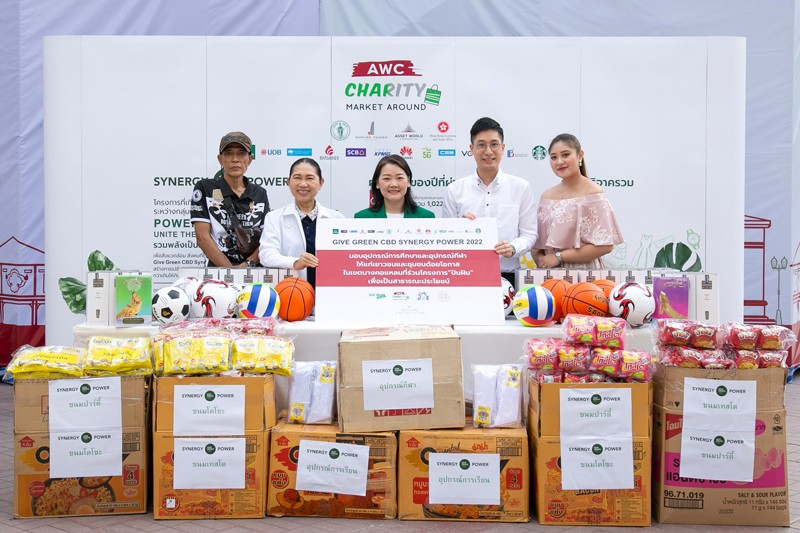 (from left to right) Khun Sunun Binsurlae, Bang Uthit Mosque community Leader (1st from left) Khun Wasana Buranakittisopon, Director of Bang Kho Laem district (2nd from left) Khun Natha Boonprasit, Chief Strategic Marketing & Sustainability Officer, Asset World Corp Public Company Limited (3rd from left) Mr. Jason Chow, Deputy Director of the Hong Kong Economic and Trade Office in Bangkok (4th from left) Khun Chutchanok Trirattanavatin, General Manager, Asiatique the Riverfront Destination (5th from left)
16 January 2023, Bangkok - Asset World Corp Public Company Limited (AWC), Thailand's leading integrated lifestyle real-estate group, joins the Bangkok Metropolitan Administration (BMA) and its network of partners in donating school and sports supplies to youth and underprivileged communities through the "Pun Fun" project. The donations, which support AWC's commitment to Building a Better Future and help fulfill the dreams of young people, was made using the proceeds from activities under the GIVE GREEN CBD: SYNERGY POWER 2022 program.
The donations were made to communities in Bang Kho Laem district including Wat Ratcha Singkhon School, Kuan U Shrine community, Wat Phraya Krai phase 3 community and Bang Uthit Mosque community. To celebrate Children's Day 2023, AWC also organized the "AWC Charity Market Around at Asiatique" activity at the Charoen Krung Square (Clock Tower) activity area of Asiatique the Riverfront Destination.
For more information and updates of the activities from AWC, including the donations from the GIVE GREEN CBD: SYNERGY POWER 2023 project, please visit www.assetworldcorp-th.com or AssetWorldCorporation Facebook and Instagram.