Meet Vignette Collection™: IHG Hotels & Resorts launches new Luxury & Lifestyle collection brand
26 August 2021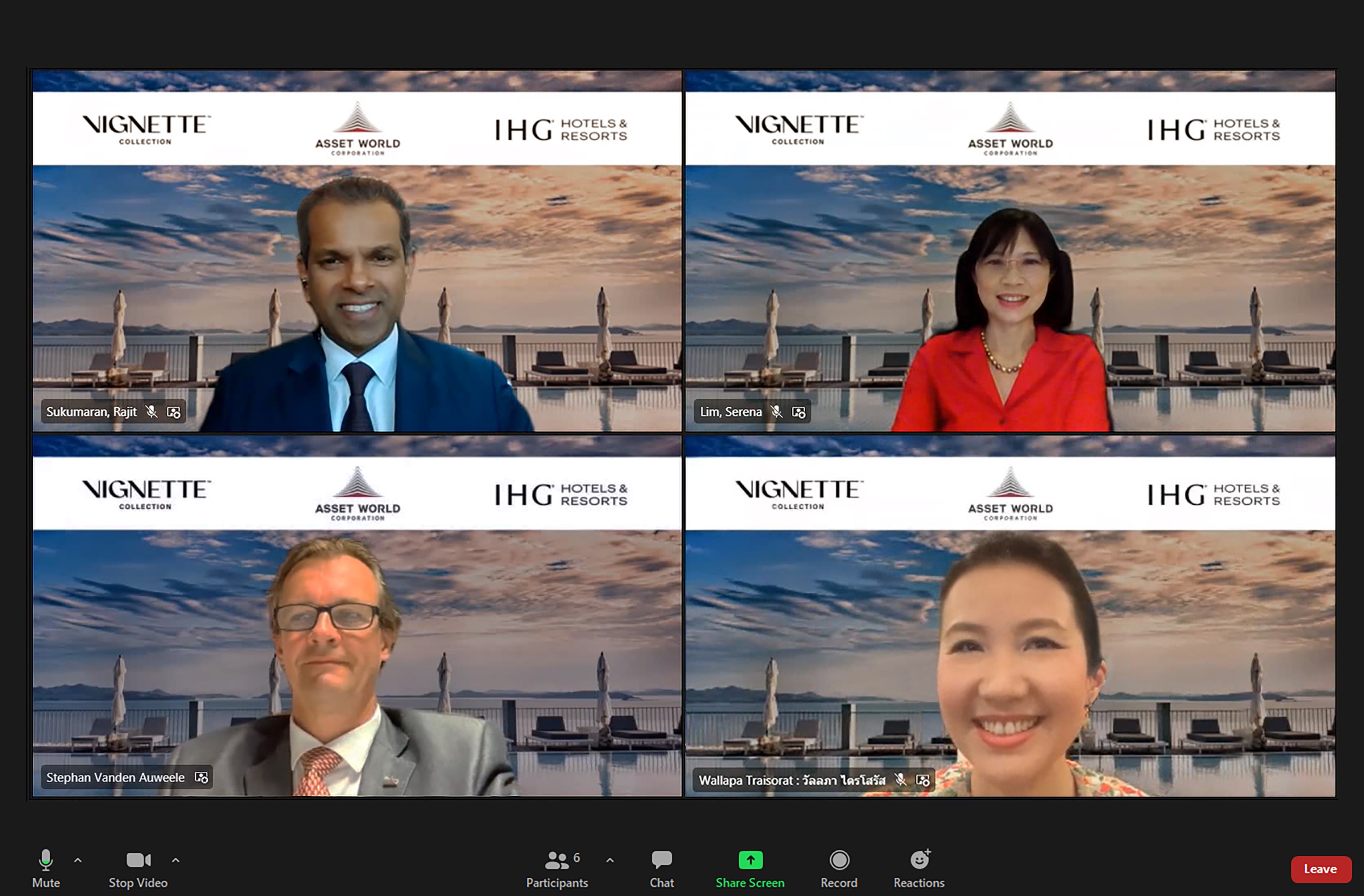 IHG Hotels & Resorts has announced Vignette Collection™ as its new Luxury & Lifestyle brand, with hotels in Thailand and Australia the first to join the collection.
Bangkok, Thailand – 26 August 2021: IHG Hotels & Resorts introduces Vignette Collection joining its fast-growing Luxury & Lifestyle collection that includes Six Senses, Regent, InterContinental, Kimpton and Hotel Indigo for leisure and business travellers. This new brand addition takes IHG's brand portfolio to 17 brands in total across nearly 6,000 hotels in more than 100 countries.
One of the first two hotels to be signed will open in Pattaya Thailand in early 2024. Working in collaboration with Thailand's leading integrated lifestyle real-estate group Asset World Corporation (plc) (AWC), the hotel will be based in Pattaya's Aquatique district, the city's first iconic lifestyle destination. It joins Hotel X, a 5-star hotel, dining and lifestyle destination in the centre of Brisbane's Fortitude Valley, Australia as the first two signings for the new brand.
Rajit Sukumaran, Managing Director, South East Asia & Korea, IHG, said: "We are thrilled that one of the first two signings for our new Vignette Collection will be in Thailand, a key growth market for IHG in South East Asia and delighted that it will be with our long-standing partner AWC. We have an impressive Luxury and Lifestyle portfolio across South East Asia and Korea in city and resort locations across eight countries, and this new brand gives IHG a compelling way to welcome high-quality independent hotels into our brand family, combining each property's distinctive identity with the power of our global scale.
"Our global Luxury & Lifestyle portfolio, which at more than 400 hotels and 100,000 rooms globally is the second largest in the industry. We've built on the heritage and global success of our InterContinental brand, with the rapid international expansion of Kimpton and Hotel Indigo, and acquisitions of Six Senses and Regent. We expect to attract more than 100 Vignette Collection hotels in 10 years, and the brand will be key to delivering our ambition of industry-leading net rooms growth."
Mrs. Wallapa Traisorat, CEO and President, AWC commented: "AWC feels honoured to be the first partner in Asia and one of the first globally to launch a hotel under IHG Hotels & Resorts' new Vignette Collection. With the backing of IHG's global systems and support, we are confident that our unique hotel, located in the vibrant and lively beachfront destination of Pattaya, The Aquatique, will appeal to all travellers seeking inspirational and exceptional experiences."
Located in the Aquatique District, Pattaya's first iconic lifestyle destination, the first Vignette Collection hotel in Thailand will be at the heart of a major lifestyle and entertainment complex featuring hotels, retail and dining outlets, and convention spaces, and will become a world-class destination concept that will appeal to the new generation of travellers.
With its own distinct style and character, the 234-room hotel will also feature restaurants, a rooftop bar, a swimming pool, spa and meeting rooms in excess of 670 square metres.
Meet Vignette CollectionTM
Whether it's gateway city havens, sun-kissed resorts, or beyond, IHG's Vignette Collection will provide one-of-a-kind stays, with each hotel serving up a distinct service style and character.
It will give owners of new-builds as well as independent hotels and small chains increasingly attracted to conversion deals the opportunity to benefit from the scale, expertise and investment of a global enterprise. Those joining IHG's Vignette Collection will gain rapid access to world class revenue delivery and guest reservation systems, Luxury & Lifestyle expertise, our powerful IHG Rewards loyalty programme, and procurement savings. All of this will come without high upfront costs and each hotel will retain its distinctive identity.
Alongside the significant owner benefits, the Vignette Collection will meet the needs of travellers seeking rich and varied independent stay experiences, and provide a greater choice of outstanding destinations to earn and burn loyalty points. Nowhere is this more sought than in Luxury & Lifestyle where the desire for distinct experiences and unique service is permanent.
Seamless conversions of high-quality, unique independent luxury and lifestyle hotels and small portfolios will further fast-track IHG's growth in a market worth more than $100 billion, and where more than 1.5 million rooms globally are currently independent. Over the next 10 years, IHG expects our Vignette Collection to attract more than 100 properties globally.
Luxury meets purpose
As part of IHG's long-term Journey to Tomorrow responsible business plans, we are committed to caring for our people, communities and planet. Our Vignette Collection will embrace this – IHG will work with owners and hotel teams to engage with initiatives of their choosing, as part of a shared vision to build brighter futures for people in the communities where we operate. Hotels will be supported to positively impact local youth empowerment groups through dedicated skills-building resources, on-site events, and volunteering. This will further contribute to IHG's long-term commitment to improve the lives of 30 million people in communities around the world by 2030.